Painting Interior & Exterior
We also have a professional on call who can immediately replace any dry rot or repair any damage to your commercial space. Simply contact our team for more information.
PROFESSIONAL EXTERIOR PAINTING
Our professional painters are ready to help you with your exterior painting project and make it a total success. A fresh coat of paint on siding, trim, shutters and doors will go a long way in transforming the appearance of your home, enhance its exterior curb appeal and add value to your home.
Sometimes there is more prep work involved in exterior painting projects than interior painting projects. When starting an exterior painting project, the first step we take is to protect your property. That includes covering your patio, outdoor furniture and other personal property around your home. We'll cover glass windows, pavement and landscaping.
Painting the interior of your home or office requires a certain personal touch to make it a positive experience. NCabrera's Painting LLC understands this and we take pride in treating your home or office as if it were our own.
The look of a building is very important and it must inspire confidence in order to attract and keep clients.
Whether historical, newly damaged, or hiding under carpeting – we can bring it back to life.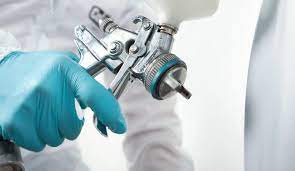 There are dozens of different techniques available to manufacturers and finishers when applying paint or finish to a manufactured product. There are specific advantages and drawbacks to each of the application methods and many of them have several variations that are best-suited for specific circumstances. This makes it imperative for you to understand your logistical and budgetary requirements in order to select the right method for your operation. 
Durable, impact resistant floors for production, containment and warehouse facilities
Industrial and manufacuring facilities demand tough resin flooring for heavy traffic areas. Our line of seamless flooring systems are resistant to impact and can tolerate constant heavy traffic from automated machinery and forklifts